There are mixed opinions out there about Oil floors vs Lacquered floors.
We would like to highlight the main differences and show you the benefits of oiled floors
Lacquered Floor Finish
Hard wearing and easy to maintain
Available in various sheen levels Extra Matt, Matt, Semi Gloss & Glossy
Special "invisible" lacquers available which will not yellow the wood (TOVER Essenza)
Requires sanding if worn away
Spot repairs are very difficult
Oiled Floor Finish
Hard wearing and easy to maintain
Can be finished in one coat
Available in various colours
Spot repairs are easily done by applying more oil
Finish is constantly being replenished using correct products
Oiled floors can be renewed over and over again without the need for sanding. If you have an area with high traffic (like a hallway) it can be refinished by using the below steps.
The Processes for oiled floor maintenance
Brush and vacuum the area to be cleaned
Apply TOVER Deteroil cleaning solution and leave for a few minutes
Work the solution into the wood to bring up the dirt
With a clean well rung mop to remove the dirt from the floor
Let the floor dry and apply oil finish if necessary
These steps will bring your oiled floor back to looking like new.
Here is an example of a very dirty old oiled floor which has never been cleaned or replenished.
We will show you how by cleaning and reapplying oil (yourself) you can bring your floor back to looking like new without having to sand your floors.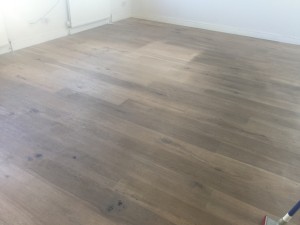 Here you can see an example of a very dirty oiled floor.
There is an area which was covered by a mat showing us what the original floor looked like.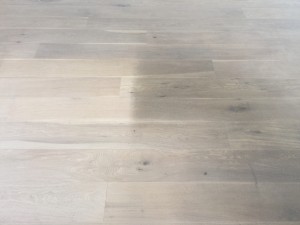 A Close up of the original floor colour (left) and the excessive dirt (right).
This area has the most amount of wear which we will start with for this example.
VIDEO deteroil application on dirty oiled floor
Here we have applied TOVER Deteroil to the affected area with a damp mop.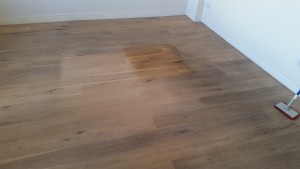 TOVER Deteroil was then left for 5 minutes to work into the dirt on the floor.
VIDEO Working TOVER Deteroil into wood flooring
Here TOVER Deteroil is being worked into the floor before removing the dirt.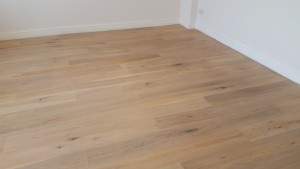 The end result after cleaning with TOVER Deteroil. The floor is now ready for another coat of Hardwax oil if necessary.
TOVER care and maintenance products can be found here.