Tovcol TA
Bi-component epoxy-polyurethane adhesive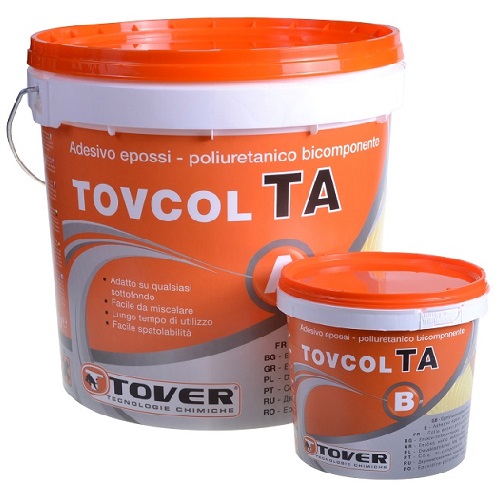 Epoxy-polyurethane adhesive with high performances. Suitable for bonding any species, solid and prefinished on absorbent and not sub-floors. Excellent resistance and hardening even if a thick layer is applied, it enables to lay also on irregular sub-floors. Twin Pack System.
Easy to apply
Easy mixing of the two components
Long working time
Low odor
Quick setting
Suitable on any sub-floor
Colours available: light brown, brown
Tovcol Light
"Bi-component epoxy-polyurethane adhesive"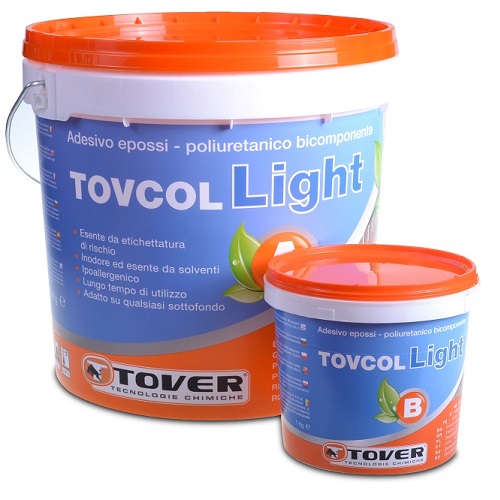 Epoxy-polyurethane adhesive. No symbol of risk. Thanks to its long working time and good elasticity, it is suitable for any type of laying, even the more complex ones like mosaic, on any absorbent and non absorbent, metallic sub-floors. Suitable for underfloor heating system.
Free from epoxy resin with a low molecular weight
No symbol of risk
Hypoallergenic
Recommended also for prefinished parquet
Low odor
Long working time
Colours available: light brown, brown
Tovcol TP5
"Vinyl glue for wood, floating parquet and laminated floors"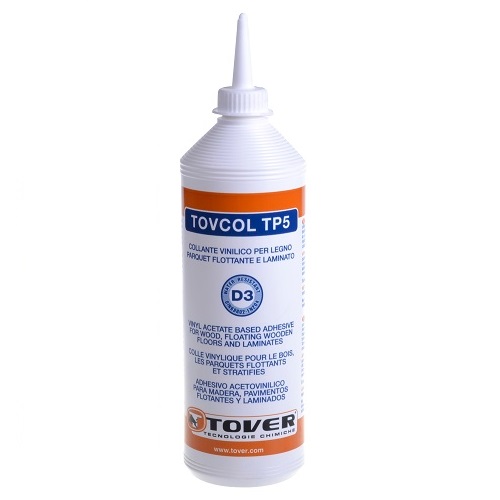 Water-based glue, solvent free, for bonding of wooden self-locking floors and laminates. It guarantees a quick setting, a total transparence and water resistance in D3 class (according the norm DIN EN 204). Suitable also for bonding small wooden parts.
Easy to use
Solvent free
Odorless
Quick setting
Completely transparent
D3 water resistance
Tovcol AL
"Synthetic solvent-based adhesive for wooden floors"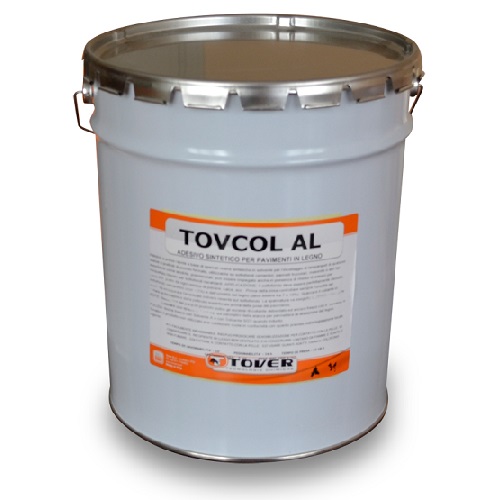 Solvent-based synthetic adhesive with quick setting to bond small sizes of any species. Suitable on concrete sub-floors, wooden panels or other absorbent sub-floors like anhydride. Useable on underfloor heating systems.
Easy to use
High yield
Quick setting
Easy to clean from prefinished woods
Suitable on underfloor heating systems
Tovcol MS Polymer
"Mono-component silane modified adhesive - MS Polymer"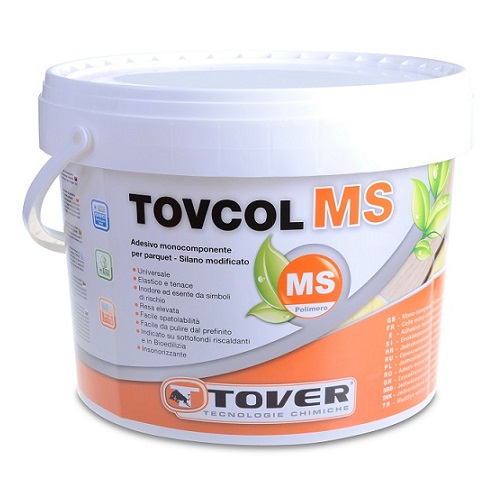 MS polymer mono-component adhesive with a long open time and easy to apply. Suitable on any species and size solid or prefinished. There is no need for adhesion promoter on non-absorbent and metallic sub-floors. It can be used also to bond small sizes as it does not swell and it is very easy to clean.
Universal
Elastic and tough
Odorless and without symbol of risk
High yield
Easy to clean from prefinished wood
Recommended on underfloor heating systems
Good sound proofing
Water and solvent free
Colours available: light brown, brown
Sigil MS (sausage)
Elastic sealant adhesive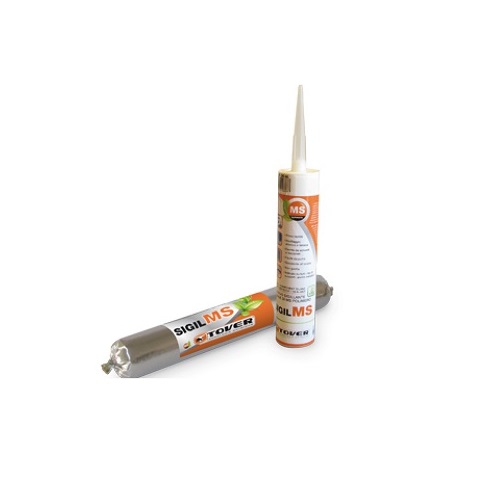 Sigil MS enables to achieve elastic and tough bonding on any type of support except plastic materials. It is useable also in vertical position for bonding stairs, profiles, big boards, skirting boards, etc. Easy to clean from hands and prefinished floors. Black Sigil MS is UV resistant and can be used as a sealer for outdoor.
Elastic and tough bonding
No swelling
Suitable on any support, even metallic
Quick setting
For internal and external use
Easy to clean
Available in cartridge and sausage
Available in white, black and oak
Gekol H20
Quick setting construction adhesive

Water-based adhesive with a very quick initial tack suitable to fix, also in vertical position, light elements like skirting boards, wooden, metallic and PVC profiles, gypsum panels, expanded polyurethane panels, PE, polystyrene on absorbent sub-floors like concrete, wood, stone, etc.
Easy to use
Universal
Quick tack
Bonding in vertical position
maOn all absorbent surfaces
Tovcol SR
"Bi-component polyurethane adhesive for small repairs"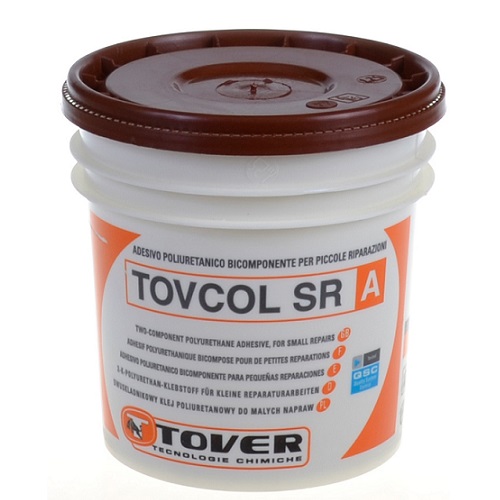 Bi-component polyurethane adhesive. Extremely quick setting. Suitable for urgent bonding and parquet repairs on any sub-floor, it enables to sand in a very short time.
No allergy
Water and solvent free
Quick setting for urgent repairs
Sanding after 1 hour
Suitable on any sub-floor
Adesol 100
"Mono-component polyurethane adhesive - For repairs"

Mono-component polyurethane adhesive, solvent free. Its characteristic of expansion makes it particularly suitable for quick fixing and repair of wooden parts. It can be used before and after parquet sanding.
No allergy
Water and solvent free
Quick setting
Immediate fixing
Can be applied with a syringe