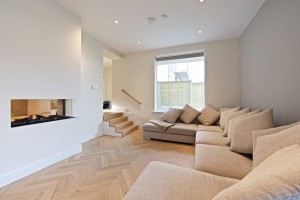 TOVER Essenza applied over engineered European Oak Rustic, Herringbone 20/6x100x500mm
TOVER are leading the way in finishes for Wood Flooring in the Water Based Lacquers section with their addition of their INVISIBLE lacquer ESSENZA.
This is a Water-Based two-component lacquer which gives your wood floor a unique untreated INVISIBLE look. Current trends have a huge demand for such a product with light stains and oils trying to achieve this look by staining the wood light. These lighter looking floor finishes are in high demand and TOVER ESSENZA fits the bill of exactly achieving the look people are after. TOVER ESSENZA will leave your floors looking the way they do just after they have been sanded, light, natural in colour and well protected from everyday spills and wear. TOVER ESSENZA has been developed for High Traffic areas and as such is most suitable for domestic and commercial use. As it is Water Based, there will be no harmful chemicals to deal with when considering its uses. It comes with very low VOC content and is totally NMP – NEP free. Technical specifications and installation instructions are available from Chetham Timber in Dublin, TOVER's distribution agents for Ireland and the UK.
TOVER Essenza
Water-based two-component lacquer

NMP – NEP Free
Very easy to apply
For high traffic areas
Excellent resistance to chemicals
No need of a sealer
Application in two coats
Unfinished rough effect
Extra matt
Low VOC